Area rug options for every scenario.
---
AWKWARD ANGLES
Designers are master magicians when it comes to tricking the eye. We have the uncanny ability to make spaces look more balanced, appear larger, and so much more. More often than not, when designers encounter awkward layouts, standard-sized area rugs are an unviable option. This is a perfect opportunity to use a unique asymmetrical option. From faux animal print to funky metallics, these imperfect carpets make the perfect addition.
SMALLER SPACES
We see you – New York City lofts, studio apartments, and college dorm rooms. Your small footprint may lack square footage, but it doesn't have to lack personality. A little trade-secret we like to use when placing rugs in a smaller space, is to turn the rug on a diagonal. Depending on the area, this can be a dramatic angle or just a subtle turn. Just make sure you've rotated it enough to make it look intentional and not off centered. Doing so, visually alters the blueprint, adds interest, and makes the space appear larger overall.
COZY CORNERS
Cozy spots call for cozy carpets. This can be achieved with more than just color, size, and texture. Shape is another element of design that can evoke emotion in a home. A circle-shaped rug has long been associated with traditional and nostalgic design. I think of my grandmother snapping green beans in her rocking chair on top of that hand-woven round rug. Expecting a little bundle of joy? A round rug is an excellent choice for the nursery room. Not only does it add character, but it also brings warmth and works excellent scale-wise with all the additional furniture needed for the baby.
WARMTH AND WHIMSY
Fashion and interior design often collide in the world of artistic expression. Cooler temps are far and few between down here in Texas, but when they do, layering is one of my favorite ways to dress for the unseasonable weather. I love getting creative with my outfits by mixing textures, colors, and patterns. If you're looking for an opportunity to do the same with your home, just start from the bottom. No matter the material of your main flooring (be it, carpet or hard surface) layering rugs is an excellent way to add warmth and dimension.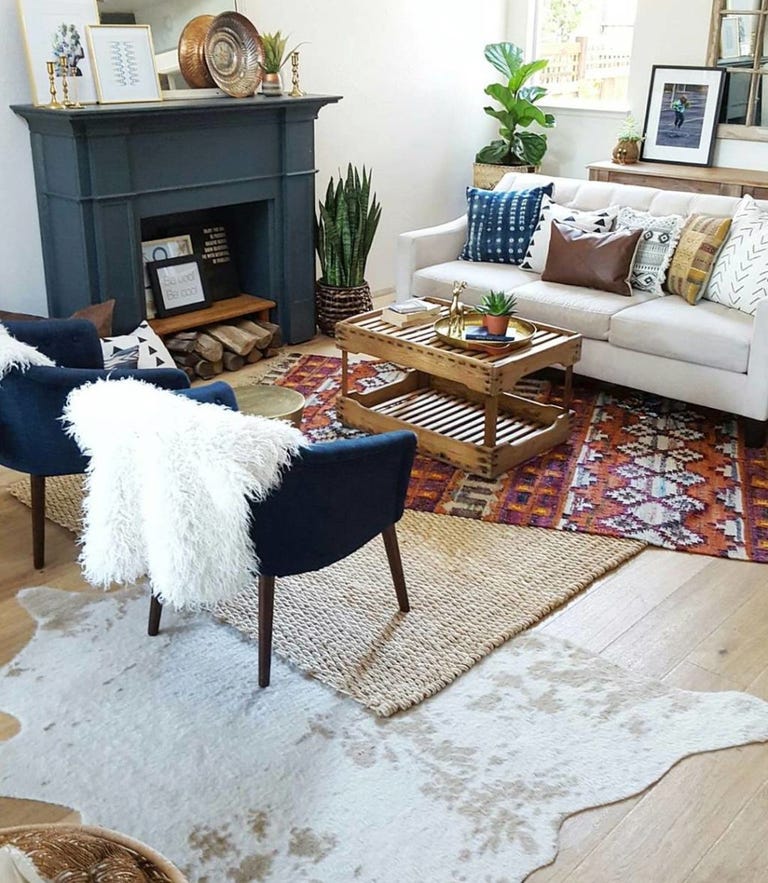 LARGER LAYOUTS
We're still loving an open concept here in the residential design world. However, with little separation between rooms, determining a clear beginning and end for furnishings can be challenging. A pro-tip is to custom cut and bind carpet to the exact layout of the space – going around fixed architectural details such as fireplace hearths, built-ins, columns, etc.… Leave a border, keeping a portion of the original surface exposed, while providing maximum carpet coverage. Work with your designer in determining the exact amount of border space, to achieve the most aesthetic and functional outcome.
You can find your perfect rug today at Rugs – Shannan Bower Home